Consider the following scenario
you  have an hybrid office365 environment
You need to Forward to one or more people all emails that sends to a global email address such as Sales@doamin.com but you don't want to waste a license in the cloud by creating mailbox for this email address.
In this case you can create an external contact with the global email address and then create a rule to redirect all emails that sends to this email address to other email address or to a distribution group.
Follow this steps:
1. create an external contact :
Create a contact in your On-premises Exchange EMC
2. Under Recipient Configuration –> Mail contact –> New mail contact
3. Create a new contact  or use an existing one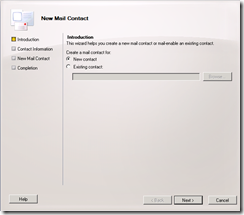 4. Type the details for the contact
5. Press New
Now you will need to sync Dirsync manually in order to see the contact in the cloud immediately
Create a transport Rule for the contact
1. Login to Office365 Portal using admin credentials
2. On the Admin page under – Service Settings – mail flow – click on Custom mail rules
3. Rules –> press on the
button and select – Create New rule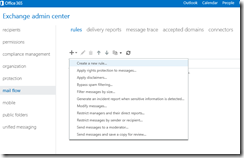 4. Give the rule a name and select from the drop down list –> The recipient is
5. Search for the contact and click on add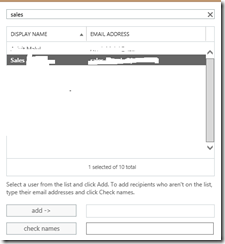 6. Under – Do the following Select – Redirect the message to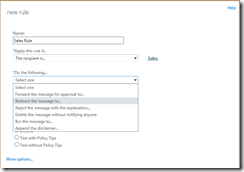 7. select the users or group and click add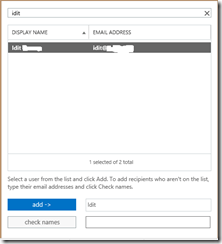 Good luck!
Idit.