Topology Builder is used to create, adjust, and publish your topology.
Topology Builder also validates your topology before you begin server installations.
When you install Skype for Business Server 2015 on individual servers, the servers read the published topology as part of the installation process, and the installation program deploys the server as directed in the topology.
When you publish the topology, Skype for Business Server 2015 places the topology in the Central Management Database, which is created at this stage if it does not already exist. Then, when you install Skype for Business Server on each server in your deployment, the server reads the topology from the Central Management database and installs a replica copy of the Central Management Database into a new local SQL Server Instance.
Whether you use the Planning tool or Topology Builder to define the topology, you are required to publish the topology by using Topology Builder before you install Skype for Business Server 2015 on servers.
Using Topology Builder to plan and publish a topology is a mandatory step. You cannot bypass Topology Builder and install Skype for Business Server 2015 individually on the servers in your deployment.
This topology builder guide is a basic step by step guide for creating a new topology for Skype for business 15
The following are the high-level steps to publish your topology by using Topology Builder:
1. Open the topology builder tool
Lunch a new instance
Select New topology
2. Save the file
3. Add the sip domain
If you want to support any additional SIP domains you can add them (you can add them later)
4. Define the first site – this is the actual name of the central site in the topology builder itself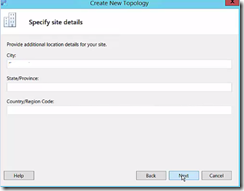 Specify the site details if you desire
5. Create you frontend pool
6. What type of pool would you like to create
Choose the pool you need for your environment and give it a name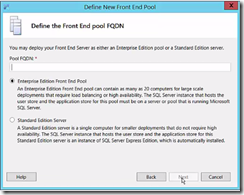 7. Add the computers that will be part of this pool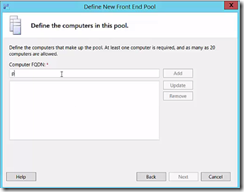 8. If there any roles you would like to collocate
9. choose whether if not you want to use an edge
10. Define a SQL store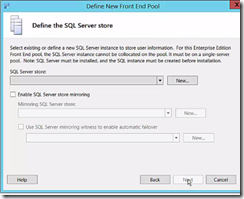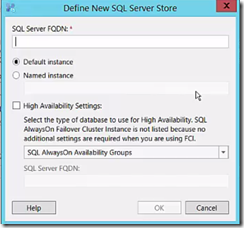 11. Define a file store – define a new file store for an existing share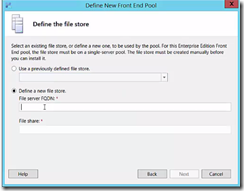 12. Specify the web services URL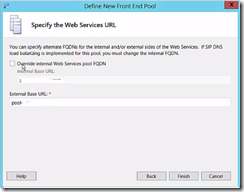 13. Click FINISH
14. Publish The topology – this will publish the configuration in to the central management store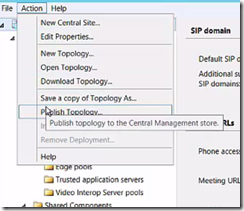 Good luck!